It's Monday morning at "The Heart's Delight University."  My name is Stella, and I'll be your instructor today.  The topic of the day is a rather mundane one- the white button down.  But don't let that fool you!  Today's "Style Chameleon" lesson will make something I'm sure all of you have in your closet, into something new and exciting.  Now, let's begin!
Our subject matter- the ubiquitous white button down shirt: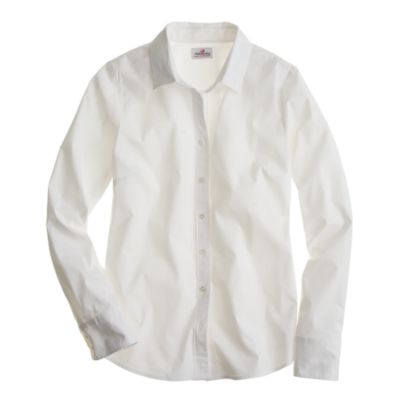 Everyone owns one of these… it's time to put it to work.
For LOOK #1, our white shirt functions as an extra layer of coverage over a basic tank.  Whether you need protection from sun, summer AC blasts, or just want a bit more modesty, leave the shirt open, roll up the sleeves and you're ready to go! 
LOOK #2 gives a standard cotton maxi dress a little bit more interest.  In this case, I recommend tying the bottom of the shirt at the waist for a little more definition for any body type.  Again, roll up those sleeves for a casual, cool look.
Lastly, LOOK #3 lets the white shirt stand on it own and helps focus attention to where it really matters- YOU (and that fabulous party skirt).  Pop that collar up, unbutton the top few buttons and let the shirt frame your smokey eyed makeup look.